Giant Pelagics in Pocklington Reef Expedition!
This is how it went down in Pocklington Expedition! 10 keen souls ventured out to experience the immaculate waters of Papua New Guinea and got a taste of its raw nature! As the new guy on the team, I was in charge to make sure that I record every moment and action that these guys encounter and oh boy, I was in for a treat!
Just like every adventure, everything has to start somewhere. We headed off to Jacksons Airport on the 1st day of the trip after a hearty Breakfast at The Madison Guesthouse. After a couple of hours in the airport and an almost 2 hours flight, we then arrived to an island called Misima on where we will rendezvous with the rest of the K20 team.
We then proceeded to board a truck to take us to the local port and after 10 mins of travel there we saw K20 with all of its Might! After the safety briefing by our K20 Lead guide Cameron, we then proceeded to steam overnight to Pocklington Reef!
K20 with the sportfisher boats docked in a local port in Misima
Right off the bat on the first day everyone got their fair share of action especially with the Big hounds of the sea, the infamous Dogtooth Tuna. Almost everyone got spooled and landed some decent 15-20 kilos but lost a fair bit of jigs on their arsenal as well. Rather sulk on the fishes they lost, they went out the next day with more spirit and determination to land these beasts!
Different species landed from Popping and Jigging.
The second day was a bit laid back and most of the guys opted to do Popping for GT's and other shallow Reef species and were always on the look out for Napoleons. I was with Mea and best buddies Michael and Chris when we went inside a lagoon. It was a bit far from where we anchored K20 but man, it was all worth it! After a few cast and small stuffs, Mea suddenly shouted GT!!! Little did we noticed that these beasts were probably following us, not one but a pair lurking in the reefs. Chris quickly casted his popper and the moment it hit the water a big GT was on the other end of his line! After a brief run and splashes, a 30kg GT was on our boat. Michael hooked the other GT of the same size but lost it when it charged straight to the boat and released itself from the hooks. After releasing Chris' GT, you can still see them lurking and watching our boat from a distance as if ready to strike again. The other guys did alright as well, landing Big trouts and good sized GT's.
Chris' 30kg GT!
It was a bit raining on the third day, We went out on our New 28 footer boats armed with a 200 HP Yamaha and the latest Garmin Sounder. The waves was a fair bit big but these boats handled it well. We ended up going to the far end of Pocklington Reef on where we found a good sized surf. The first thing that came to our minds – GT'S!!!!! A few cast, then boom! Something jumped out of the water and snatched Michael's shiny lure! Not a GT but a Topwater Doggie!!!!! Marty quickly casted as well and got a share of the fun from the top water action! Once the top water craze settled down, its time to drop down the iron lures, and not too long, we got hooked on some serious fish. Sadly, we never get to land them but had fun the least. Lost 1 GT and a number of Doggies that split Michael's Jigging rod into 2. Emile on the other boat hauled in a nice 30kg Napoleon on topwater while the other boys got their GT's and couple of decent Dogtooths.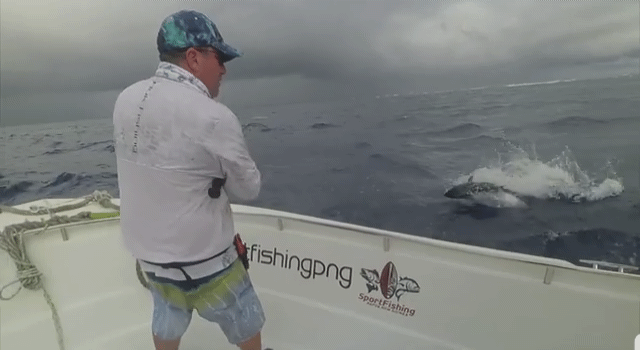 Yup a Jumping Topwater Dogtooth Tuna!
Emile's Napoleon on topwater guided by Billy
A couple of days had passed and we are on our fourth day. Cameron, Chris and Michael went to the shallows and did some Fly Fishing. It was one of the best areas of the reef on where you can walk on the sand and do some fly casting! The weather was nice in the afternoon with a bit of an overcast which made fishing a bit easy. The sharks have been a bit of a struggle this day with not much of an action happening. Most of the guys opted to go back to K20 early and have a nice rest and we travelled overnight onboard K20 to the next spot.
A nice fly fishing spot littered with birds!
The latest addition to our Bluewater Fleet the two 28 footer Sportfisher powered by a 200 HP Yamaha and fitted with the latest Electronics.
Then came day 5, we anchored down to a spot surrounded by a chain of islands. It was a good day and I was with Cameron, Emile, Wahib and Nicolas to try out their luck again with the Doggies that had brutally punished them since day 1. To start off, Emile got a good sized King Mackerel on top water that ended up as a feast for us in the afternoon. We then proceeded to try our luck again to catch Doggies. We got to a good spot with a bit of current and baits, a few drops and Nicolas was on! After a solid hookset, the fish ran like a freight train emptying half of his spool until eventually snapping his leader. It was one of the most brutal runs that I've ever witnessed!
Screaming Reels compilation during the trip!
It was already past 4:00 pm when the sounders started marking large school of baits mixed with plenty of currents. Cameron radioed in the other boats to pool in the same spot and concentrate jigging to where we are, and not long enough, Bryan and Nick Antoun was on! And it's definitely a big one! After a couple of minutes of playing tug of war with his fish, Bryan on Mea's boat hauled in a 50 kg Beast of a Dogtooth. On that moment, Bryan had the biggest fish on the whole trip until Nick bagged a 75 kilo Cracker on their boat, an enormous 75 kilo Dogtooth! Just like that, we got the biggest fish of our Bluewater season this 2019! It was an epic way to cap this day off!
Bryan with his 50 Kilo Dogtooth (Left side)
Nick with his trophy 75 Kilo Dogtooth (Right side)
We are now on our final day, everyone is still keen on getting their trophy fish on this trip and after the overnight steam, we were taken to an enormous island with a cliff on the side. It was like a place straight out from Jurassic Park! I went in with Nicolas, Emil and David and did the usual jigging for Dogtooth's and Popping for GT's. The guys hauled in a decent sized fish with Emile landing a 30 kilo Doggie and Nicolas getting a 20 kilo. In the afternoon, I went with Bryan, Michael and Marty to explore the island near our anchorage and chill for a bit. The island and its waters was so pristine that you can clearly see the bottom and is truly a place to be after all of the fishing action everyone experienced. We then proceeded to do some top water fishing in the breaks near the islands and landed a couple of GT's, Red Bass, Sweet lips, Coral Trouts and Blue Fin Trevallies. Before the sun sets, everyone was back on K20 for the final steam overnight to the airport. The last night was a mixture of fun and sumptuous dinner while packing away the gears for the travel back to civilization tomorrow.
Sami with his gorgeous Coral Trout
Our Awesome Anchorage on our last day
There's still a ton of things to say that happened on this awesome trip but words cannot simply describe the experience we had on this destination. It is best to leave it out for you to experience it yourself!
Definitely this trip is one for the books for we bagged the biggest fish for our 2019 Bluewater Season! Special Thanks to Michael, Chris, Wahib, Emile, Nicolas, Marty, Nick, David, Bryan and especially to Sami Ghandour of Salty Water Tackle! You guys are epic! From the whole SportfishingPNG team, thank you and see you onboard K20 on your next trip!
Catch!
Hecsterson